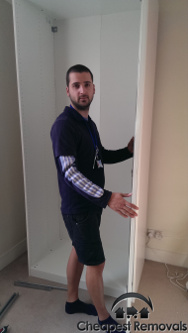 There's something to be said for having your furniture arrive in boxes. Even a large piece comes in easily handleable parts and there's no worries about getting a queen-sized double bed around the corners of a narrow stairwell. The quality and range of flat packed furniture has improved vastly over the years. Still, to maximise the life of self-assembly furniture and gain the best use from it, it's important it goes together right first time
Maybe you don't have the tools, the confidence or the time... Maybe you'd just prefer to hire experts in a field. The reason doesn't matter. What's important is that, when you furniture that needs putting together - our London furniture assembly service is just what you need. We'll get your bed, kitchen cupboards or any other piece assembled quickly and correctly. All screws securely fixed in place, all doors correctly lined up. You'll be certain of getting the best appearance and the best performance from the item.
When to Call Us for Furniture Assembly
Combine this service with your IKEA delivery and you'll get the whole job done in one go. The furniture doesn't have to be newly bought however. When you're moving house, book our removals service to make the big day easy, and get us to disassemble your furniture at one end and put it together again at the other. You'll save space on the lorry and the furniture will withstand the move better. In both cases you'll get a discount against our normal rates when you book two services at once.
See what our past customers have to say about our services on our testimonials page. Here's a quick reminder of the benefits you'll gain from our furniture assembly service:
We're easy to book, call us at any time or contact us through our website
Competitive rates, compare our prices with similar services, and we're sure you'll agree we offer great value for your money
Experienced employees. That confusing instruction diagram you're looking at will make perfect sense to our workmen and they'll get your furniture put together right first time
Maximise the function and lifespan of your flat pack furniture. When the item is put together correctly it will look better, work better and last longer too
Book Our London Flat Pack Assembly Service
It's easy to book us. Just make a quick call to 020 3404 2266. Our lines are staffed 24/7 so you can count on getting straight through to someone who'll deal with your enquiry promptly and efficiently. Ask for your free quote or make you booking all in the one call.
Alternatively, drop us a line through our simple contact form, or start an immediate conversation with one of our staff through our chat feature. Just type into the box and we'll reply.