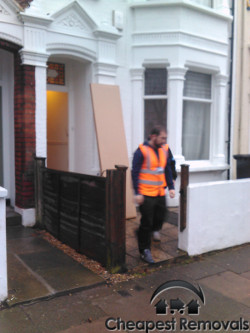 IKEA has revolutionised the flat pack furniture market. Swedish design and style brought to your home and at a great price too. Sometimes though, wandering around the store, your enjoyment of the variety of furniture on offer might be marred by the thought of getting it home and putting it all together. When you have limited time or few DIY tools, you might end up choosing your furniture on the basis of how easy you think it's going to be to deal with, rather than choosing the thing you like best. That's a shame, you'll use the furniture for many years and it's not necessary to compromise. Let us take care of the job of getting your furniture home and putting it together. You'll free yourself up to choose the piece you really want.
As with our eBay collection service, we have a team of couriers who will deliver your furniture to any London address. We're best known for our removals services so you can be certain that our employees have lots of experience of moving furniture whether it comes in boxes or as a whole piece. Book us, and you'll know your new belongings are being cared for by diligent and responsible people
Delivery and Assembly in One Easy Package
It has to make sense to get the whole job done in one go. More than that, you'll be choosing a team who know exactly what they're doing right along the way. Our drivers know London like the back of their hand and our assembly team have the tools and experience to make quick work of even the most ambitious flat pack project. You can be certain that your furniture will arrive in perfect condition and that it will be put together accurately and strongly so that you can enjoy it for years to come.
See what other clients have to say about our work on our customer testimonials page. Below is a reminder of what you can expect from our IKEA delivery service:
Rapid pick up and delivery to any London address
Experienced workmen to assemble your furniture
Great prices - we're efficient which helps us to keep our costs down, and we pass those saving onto our customers.
A service that's available when you need it - you can arrange your delivery for weekends, early mornings or late evenings
Book Your IKEA Assembly Service Today
Just call us, 24/7 on . Ask for your free quote and make your booking all in one call. Feel free to ask our customer care team any questions you have, they really are there to help you, any time of the day or night
Contact us through our chat service right now, if this suits you better. Typing into the chat box will start an instant conversation with one of our staff. Alternatively, make your enquiry by filling in our simple contact form. Tell us when you'd like us to call you back and we will, it's as simple as that!